Happy Summer (or, well, almost summer), Falcons fans!
The heat is getting blistering once more as our fearless fowls of the football field work tirelessly again to return to postseason glory. But, for now, things have slowed down a bit.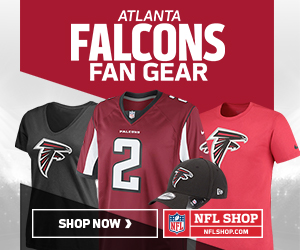 As Falcons fans, we have to do our own finger twiddling until training camp begins. There's nothing going on for the NFL right now. Literally nothing. It is boring until training camp starts.
But, then again, something random can pop up at any given moment that gives us something to talk about in regard to our Dirty Birds.
So, here are a few storylines that could spring up over the summer before the team gets going again in camp.
RIGHT GUARD WARS: EPISODE V – THE VETERAN STRIKES BACK
The worst-case scenario for the Falcons in the right guard spot right now is that of Wes Schweitzer, Ben Garland and Sean Harlow, there is no suitor worthy to slot in to the right of C Alex Mack.
The team will not likely get nervous unless during OTAs, there is a clear need to bring in a veteran to add to the competition. In June 2015, the team added G Chris Chester after his release from Washington, who manned the spot for two seasons.
Chester was never a world-breaker, but he did a serviceable enough job to hold down the spot for two years without major struggles at the position.
Right now, the team is unlikely to sign a veteran, especially with the recent addition of G Cornelius Edison (formerly of the Bears). But, if the foreheads get a little sweaty in Flowery Branch looking at the right guard spot, don't be surprised if the team makes a move.
Of the free agents, G Orlando Franklin, formerly of the Chargers, could slot in. He's a proven veteran, though he might fare better in a power scheme. But, if the team wants an able body now, Franklin isn't a bad guy to call, though he'd have to adjust to the zone scheme the Falcons run. Other veterans out there include G Austin Pasztor (a former Brown, which typically goes well), G Andrew Gardner (who recently visited Flowery Branch) and G Tre' Jackson, who formerly started for the Patriots but has struggled with injuries.
If they wish to go the Levitre route and secure a veteran via trade, Cleveland's John Greco (who played for Kyle Shanahan in 2014) would be a nice pick-up. The veteran lineman has been knocked out of a starting guard spot after the signing of G Kevin Zeitler. At 32, Greco has struggled with a few injuries in his later career, but might be the best option out there if the trio in competition doesn't pan out just yet.
This is a worst-case scenario, but it might be a necessary one if the team ever loses confidence in the main three guys vying for the right guard spot. Right now, it's Schweitzer's to lose, but as we all know, things change fast in the NFL.
THE ADVENTURES OF MATTY PRICE & DEVONTA PAY-THE-MAN
The Falcons, right now, are set to extend the contracts of two key franchise members – QB Matt Ryan and RB Devonta Freeman.
The two are vital to the Falcons' success, and both are set to receive contract extensions for their phenomenal play and locker room leadership. They may both get new deals before the season begins.
Right now, Ryan's contract is set to expire in 2019, but after his 2016 campaign, it's assumed the team will want to renegotiate his deal and secure him as a Falcon for years to come.
A five-year extension on his current deal feels like a good scenario for the team, extending him through the 2023 season, putting him at 38 years old when his new contract would expire (he would turn 39 before the 2024 season). It would all-but-guarantee Ryan would be a Falcons for life as long as his play does not dip in the years to come to the point a replacement would be necessary. He's entering a new window for contention with the team, and having him secured for the next six seasons would be a grand relief.
With Drew Brees making $30 million a season, his yearly numbers could be anywhere between that and what he's pulling in now (in the low 20s).
As for Freeman, a good deal to look at would be what RB LeSean McCoy signed with the Bills – 5 years, $40 million. The move would pay Freeman handsomely for his services, as he deserves to be after two outstanding years with the Falcons. He's just now entering his prime, and the team can't afford to lose his play with the Falcons entering a new renaissance of quality, particularly on offense.
Expect both deals to be done by the season's start – maybe even sooner than expected.
IN WITH THE OLD
Right now, the Falcons have two or three veterans from last year's squad who could, perhaps, return if the team feels like they are lacking in depth at any position.
LBs Philip Wheeler and Sean Weatherspoon were good reserves to have on the roster last year, with Wheeler playing significant rotational snaps last season and Weatherspoon doing a nice job as a pinch starter when De'Vondre Campbell was out to start the 2016 campaign. Rookie LB Jermaine Grace has Weatherspoon's old "56," which may hint his days in Atlanta are sadly over. But, Wheeler's "41" is yet to be claimed, perhaps hinting Wheeler could be back if the team feels it needs veteran depth at LB (certainly a possibility given the makeup of the roster).
DE Dwight Freeney has been a big question as for his return – rookie DE Chris Odom has his 93, and with the depth at the position, the team will likely opt to let Freeney continue his career elsewhere.
TE Jacob Tamme could be a surprise return if the team gets nervous at the tight end depth, but with TE Austin Hooper looking to assume starting abilities, the recent contract of TE Levine Toilolo and the drafting of TE Eric Saubert, it feels unlikely.
NEW KIDS AT THE BRANCH
Of course, one of the obligatory things to watch in the summer is how the new guys are doing – particularly the rookies.
We're all waiting to see how DT Dontari Poe fits in on the d-line, but DE Jack Crawford's addition and planned use will be an intriguing path to follow. His versatility could be an X-factor for the Falcons this season in a rotational role.
DE Takkarist McKinley will be trying to fit in on the Falcons' D-line – his energy and how he meshes with the team (perhaps as an early leader) will be something to watch. OLB Duke Riley will be teaming up with his old running buddy at LSU Deion Jones, and CB Damontae Kazee will try to cement an early role in the Falcons' crowded secondary.
On offense, G Sean Harlow could be a sleeper candidate for the right guard spot, RB Brian Hill will be competing for the RB3 spot with Terron Ward and TE Eric Saubert will likely be trying to prove he's worthy of game snaps in his first year.
And, watch for WR Andre Roberts establishing a chemistry with QB Matt Ryan – he could be a new factor in the passing game this season.
What Falcons storylines are you looking forward to over the summer months? Let us know below in the comments.