The Atlanta Falcons blew a lead to an NFC East team Thursday night, but thankfully, this loss won't make you feel hollow on the inside.
The Falcons lost 23-20 to the Miami Dolphin in the most meaningless game on the NFL calendar – the first preseason game. Matt Ryan had a touchdown pass to RB Devonta Freeman to cap the first team offense's night, and the first-team defense showed their fast, physical play against a Matt Moore-led Miami offense. The two teams will meet again in October at the new stadium, when Jay Cutler is likely under center.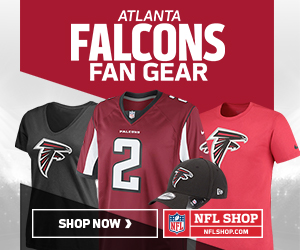 Here are our takeaways:
Wes Schweitzer might have sealed the deal at right guard.
RG Wes "Smooth" Schweitzer (we're coining that nickname for him, we were here first, you can't have it) stuck it to DT Ndamukong "Highest Paid Player at His Position" Suh Thursday night in a startling performance. It was startling because no one knew Schweitzer could do that to anyone – much less Ndamukong "Household Name" Suh. The right guard looked unfazed by the defensive tackle, going up against him and keeping him from feasting on reserve quarterbacks Matt Schaub and Matt Simms. While veteran guard Ben Garland started and didn't do anything wrong, it was Schweitzer who made the alarms go off with fans Thursday night. Schweitzer also fended off Miami DT Jordan Phillips, no scrub, to put some impressive play on tape. He particularly looked sound as a pass protector, the major question mark for the second-year guard coming into training camp. Don't go calling Garland done just yet, but then again, the Falcons won't face a better defensive tackle until, well, they play Suh again in October. After Thursday night, we may know who the coaching staff wants keeping Matt Ryan upright.
Jalen Collins needs a break.
Look, you know and I know how soon-to-be-suspended CB Jalen Collins did tonight against Miami. On Sunday, the cornerback lost ten games this season to a repeated PED violation. Thursday night, he had a topsy-turvy preseason performance against second-and-third teamers, including a blown coverage that partially led to a 99-yard touchdown for someone named Damore'ea Stringfellow (who looked alright for what it's worth). The vipers of the Dirty Bird brood were quick to strike at the struggling third-year junior – the #bust police were out in full force. I saw more calls for cuts than strict principles hounding down on long-haired middle schoolers. Indeed, Collins has had his worst week in a Falcons uniform – by far. But, football is a game of the mind as much as it is the body. Collins has been in a tough spot all week, with the unfortunate spotlight shining bright on him at a time where he could use anything but. He's likely frazzled by the pressure and the suspension, and that probably led to the poor play more than him just forgetting to be a guy who played well down the stretch on a Super Bowl team. No doubt the coaches and front office are still fuming at his errant decision making, but Collins is still part of the Brotherhood until he isn't. Is it still a good idea toting him out there on television if his mind isn't in the right place? Shutting down Collins for the preseason isn't the worst idea if he plays poorly again against Pittsburgh's roster bubbles. We know Collins is still a little raw, but he's not as bad as he showed himself to potentially be against the B-and-C-team Dolphins. Collins may need time to really get his priorities in order and his head clear before he hits the field again for the Falcons. It may truly be what's best for team and player.
This was not a good night for the rookie class.
OK – we've gotten spoiled in recent memory to some franchise-changing rookie classes. This one isn't going to be that, at least not yet. While LB Duke Riley flashed his speed in his limited reps and will have plenty more to prove later in August (and DE Takk McKinley was on the sideline as he continues to recover from shoulder surgery), the other youngsters took their public lumps against Miami. G Sean Harlow got manhandled on a number of plays, though he had a nice block against fifth-round DT Davon Godchaux to put on his fridge. He's not ready yet. CB Damontae Kazee was largely quiet sans a tackle here and there. He's also got an ailing ankle, for what it's worth. He's not quite there yet. RB Brian Hill had nine carries for ten yards, averaging 1.1 yards per carry. He's, y'know, not there yet. TE Eric Saubert was a liability as a blocker and had one catch for negative-one yards on two targets. He's, well, you know. It's not to say we won't one day celebrate this roster as another stroke of Quinn/Dimitroff genius, or to say that these guys won't have an impact on the field this year (well, for Harlow, we hope not). But, the team has done its first "think to the future" draft, and these guys are going to take time to develop. If it doesn't look pretty right now, it's not really supposed to. Let's pump the breaks and give these guys the time they need to put the pieces together. Some assembly was always going to be required.
The fringe spots on the roster are far from settled.
The battles for the fringe spots on the roster are exciting right now, but we're more than likely waiting tooth-and-nail for the guys who will show up on the inactives list every Sunday at 11:30 a.m. before kickoff. WR Reggie Davis, the Georgia speedster who some think could be the next Aldrick Robinson, looked, well, like a speedster Thursday night, one with sure hands to boot. He's got the in-line to the sixth spot on the roster at wide receiver, unless the coaching staff still has an affinity for "scrappy" Nick Williams. WR Marvin Hall, who has been one of those "talk of training camp" faces, also looked solid, but was just a hair behind Davis. Hall, right now, would be a great practice squad addition – he's not as explosive as Davis is, but we'll see who is known for the better hands by the time the preseason is over. Between Davis, Williams and Hall, one of those guys will likely be your sixth receiver – if the team carries six. This could be another Terron Ward versus Brandon Wilds schadenfreude that ends up a moot point if the team only carries five receivers. Speaking of Ward, he seems to be getting better as each season goes on – the guy everyone wants to forget sticks around like a pop song in your head, but this song gets better the more you remember it. Ward has a physicality and a pop to his game that makes him the ideal backup running back. Plus, he's a good special teamer. RB Brian Hill didn't really show too much against Miami, but he was out there as a special teamer in the first series, meaning the team is gauging to see how he would react on kickoffs if he was active on gameday. It's entirely possible the team carries four running backs along with FB Derrick Coleman this season. Right now, Ward is making a strong case for why it'd be unwise to cut him loose from the main 53. The swing tackle battle also is kind of a big question mark right now, with only Daniel Brunskill and newly-converted right tackle D.J. Tialavea really getting anyone fired up on social media. Tialavea is adapting more quickly to the job than anyone expected him to at this point, which could help him cement a practice squad spot.
On defense, pass rusher J'Terius Jones had some nice snaps that showed why he's been getting buzz this offseason, as did Chris Odom. It'll be a "this town ain't big enough for the both of us" situation between the two pass rushers, and with Quinn giving both ample time on the field Thursday night, it may mean one of them makes the cut when it's all said and done, with the other sticking around on the practice squad. DT Joe Vellano made some pressure be felt with his reps. LBs Josh Keyes, Jermaine Grace and Jack Lynn all had their own little moments here and there, hinting that the backup linebacker race may stretch further than we expect it to. And, QB Matt Simms struggled some, which doesn't bode well for his campaign to be the third quarterback on the team. QB Alek Torgersen had the better night in that regard. And, CB Jarnor Jones had a sick interception and made a handful of plays. He might be a really good bet for the practice squad if he keeps this up. And, K Mike Meyer made a 50-yard field goal. He might be the heir-apparent to Matt "Money" Bryant.
First team offense and defense did their jobs, and left healthy.
It's the first preseason game of the year. The offense looked just like it did last year (it looked good), and the defense didn't let Matt Moore get an inch (which I'll be honest would've made be a hair nervous early last year). RB Devonta Freeman, a man with a lot more zeroes in his bank account after Wednesday's contract extension, had a nice touchdown run. TE Austin Hooper had a nice gain. WR Mohamed Sanu Sr. nabbed a beautiful catch on a coulda-been-better-ball from Ryan. They would have smothered this team if the starters had played for four quarters (the Falcons lost, which means nothing). So, y'know, yay. The Falcons might not be so bad this year, and everyone was healthy. Woot.
Ten Random Observations
It's weird not feeling like football is a lie after a Miami preseason game.
WR Andre Roberts is a good player and a great returner, like I told you in March.
CB C.J. Goodwin briefly sat on LB LaRoy Reynolds shoulders tonight during a play.
DE Brooks Reed utilized a spin move to great effect tonight, which was the part on the Falcons Preseason Bingo Card no one thought they'd be able to fill in.
CB Desmond Trufant was like maybe injured for like two minutes tonight, and I was so worried.
At one point tonight, QB Matt Simms was the team's leading rusher.
DT Dontari Poe trashed-talked RB Kenyon Drake when he ended up on the Falcons sideline tonight, and I found that to be funny.
DT Ra'Shede Hageman made some moves tonight, and that De'Vondre Campbell pick made me happy.
All your Jalen Collins Hot Taeks were garbage.
The Miami broadcasters referenced the late film director/producer Blake Edwards for some reason tonight. Preseason football is weird.
See you guys next week in Pittsburgh. Comment below with your favorite moment you nearly nodded off during.
Photo from AtlantaFalcons.com