By Matt Karoly
Draft day has finally arrived. Can you feel the excitement, Falcons fans?
If your answer to that question is no, one of two things must be true. Either, (a) you don't have a pulse or (b) you didn't watch Dan Quinn and Thomas Dimitroff's pre-draft press conference.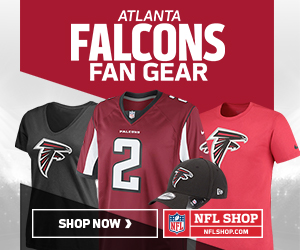 In it, Quinn and Dimitroff throw smoke, make jokes, and stay woke (in TD's case) on the core values of Waffle House's menu. The last part is reason enough to tune in.
However, the biggest football takeaway from the press conference may have been the duo's admission of just how many first round scenarios their staff has gone through. Dimitroff set the number at eight to ten, for those keeping track at home.
For a team that has seem destined to draft a defensive tackle in round one all offseason, their comments last Thursday are reason to pause. It's also cause for concern when trying to predict what the Falcons will do in the draft.
But that won't stop me from shooting my shot, so without further ado, I present to you my one and only mock draft of the 2018 offseason.
1st Round, Pick 26: Taven Bryan, DT, Florida
In this scenario, the top three defensive tackles (Maurice Hurst, Vita Vea, and Da'Ron Payne) are all off the board. In Hurst's case, he could be off the Falcons' board due to medical reasons. But fear not, Dirty Bird Nation; Bryan is no slouch of a consolation prize.
In fact, outside of #DT1 Maurice Hurst, Bryan may be the next best fit for Dan Quinn's 4-3 under defense. His first step is truly elite; he is country strong (the Wyoming native cranked out 30 reps at 225 lbs at the combine); and Bryan tested as the best athlete among all draft eligible DL according to SPARQ (Speed, Power, Agility, Reaction, Quickness).
We all know how much Quinn covets urgent athletes. Taven Bryan fits that bill.
In the event, however, Bryan (or any DT for that matter) is not the pick, look for Atlanta to target a cornerback at pick 26. Jaire Alexander, Isaiah Oliver, or Mike Hughes would be the corners to watch for.
Round 2, Pick 58: Nathan Shepherd, DT, Fort Hays State
A number of prognosticators have Nathan Shepherd graded as a top-32 player. His combine performance and game tape certainly support that conclusion.
However, if Youngstown State (FCS) DE Derek Rivers taught us anything last year, it's that the NFL people may have a slightly different viewpoint of the small school prospects. But at pick 58, and with Taven Bryan already secured, Shepherd may be too good to pass up at this juncture.
The Fort Hays State product would provide a bigger bodied defensive lineman to pair with Grady Jarrett and Taven Bryan that could someday form one of the best defensive lines in football. Bryan at the 3T, Grady at the 1T, and Shepherd at the 5T with Takk and Vic along the edges should have Falcons fans salivating.
Round 3, Pick 90: DaeSean Hamilton, WR, Penn State
The Falcons have shown considerable interest in Hamilton this draft season and rightfully so. The all-time receptions leader for the Nittany Lions is arguably the best route runner in the entire class.
With speedsters Marvin Hall and Reggie Davis in place at the bottom of the depth chart, Atlanta would benefit most from a technician such as Hamilton. In addition, the four-year starter does his best work on third down and in the red zone, with the latter serving as a welcome addition to a team in need of a boost there.
The long-run picture for Hamilton would be Justin Hardy's replacement in 2019 (if not sooner) and the eventual successor to Mohamed Sanu at WR2 down the road.
Round 4, Pick 126: D.J. Reed, CB, Kansas State
Cornerback is a position, much like tight end and offensive line, that the Falcons can afford to punt on in 2018. But by selecting D.J. Reed, the Falcons are not only upgrading their nickel cornerback role, they are also acquiring one of the best return men in college football.
Reed can have a Jamal Agnew-type impact (the NFC's Pro Bowl representative at returner as a rookie) in 2018 while competing with Brian Poole at NCB and eventually unseating him for the job in 2019.
All gas no brakes, huh? 🤔 #Falcons https://t.co/q2D2yMzf8K

— Matt Karoly (@mattkaroly) February 25, 2018
Round 6, Pick 200: RB Chase Edmonds, Fordham
The Falcons have a need at RB3 due to Terron Ward not being brought back by the team; hence, the selection of Edmonds here in the sixth. If you are a little apprehensive to see another non-FBS prospect listed here, don't be.
Edmonds flat out crushed the FCS competition, winning Patriot League player of the year twice in his four-year career. In 44 career games, the Harrisburg, PA, native amassed 5,862 rushing yards, 905 receiving yards, and a whopping 74 touchdowns.
Built very similar to Devonta Freeman, Edmonds brings a shiftiness to his game not unlike the Falcons' lead back. Chase figures to carve out a role on special teams early with the hope of taking over for Tevin Coleman as Atlanta's RB2 in 2019.
Round 7, Pick 244: OLB Foye Oluokun, Yale
I can't tell you much about Foye Oluokun (including how to pronounce his last name), but what I can tell you is that he fits the mold of a prototypical Atlanta Falcons "run and hit" linebacker. At 6-foot-2 229 lbs, Oluokun clocked a sub-4.5 40 time, a 6.94 second three-cone, and recorded a 37″ vertical and 10'3″ broad jump.
Those numbers pass the Falcons filter with flying colors, folks. And something tells me he's also an extremely heady player — an important trait for any linebacker — given that he went to Yale and all.
Round 7, Pick 256: OT Korey Cunningham, Cincinnati
Last, but certainly not least, this year's Mr. Irrelevant goes to Korey Cunningham. While Cunningham may prove to be irrelevant in the Falcons' plans in 2018, the ultra-athletic former tight end figures to be Atlanta's swing tackle in 2019 (if not sooner) and could take the reigns at right tackle depending on Ryan Schraeder's future play/health in 2020.
At this stage of the draft, rolling the dice on a project is a low-risk, high-reward strategy. It also prevents other teams from entering the fray in the undrafted free agent process.
With offensive line virtually set in 2018 and other areas of the depth chart satisfied with picks three through six, I can't think of a better selection than Cunningham with the last pick outside of maybe a developmental quarterback.
Well, there you have it, Rise Up Readers. My 2018 mock draft is in the books, and pretty soon the actual draft will be, too!
So all that's left to do until then is sound off in the comments section with the players you believe will be the next #FutureFalcons.
Photo from NFL.com