Why, good day, fair Falcons fandom!
It's about a week from the day the Atlanta Falcons first arrived in their vehicles to the facility where camp happens, and we've seen some cool stuff, talked about some interesting camp stories on our highly-vaunted social media pages and have even convinced ourselves February was just a cruel dream shared by the entire state of Georgia and select surrounding areas, and the Falcons actually had a team party last February at the Georgia Dome with pizzas and soda pop and bouncey houses and Freddie Falcon singing karaoke (N*SYNC's "Bye Bye Bye") with Rich McKay, Jeff Ulbrich, Sharrod Neasman and the AJC's Mark Bradley.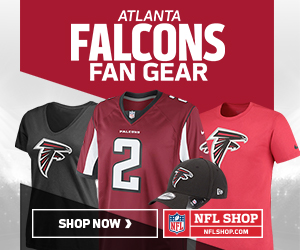 Ok, so that last part isn't true, but we've got a few stories for our new article The Dirty Bird Ten – where we list ten things going on in the week before and talk about them to decent detail.
Let's get this thing started. You can even get in push-up stance as you read these and do a push up every time you read an item. It's your life, pal.
ONE – THE RIGHTEOUS GUARD BROTHERS
Look, I'm not saying Ben Garland and Wes Schweitzer would make for as melodious a duo as the actual Righteous Brothers, but I'm also not saying they couldn't either. We could call them "Schweitzimon and Garlandfunkle" or "Tall and Blocks" or even "Milli Zone Blocking Scheme-illi." Oh, wait, we're not talking about the possibility of joining together the two possible right guard starters for the Falcons into a musical duo? OK, fine. I'll drop that. For now.
So, by the time the Bears come calling next month, either Garland or Schweitzer will be starting at right guard, filling in for Chris Chester, who has retired to finally fulfill his dream of waking up at 5:15 a.m. every morning to "get a head start on the day." It's kind of an important decision for the coaching staff, because the starting right guard will have to make sure opposing defensive tackles don't eat Matt Ryan.
Not sure if you've heard, but it's a bad thing if the opposing team eats your quarterback. He can't play football anymore! Because, he's been consumed.
It's incredibly, astronomically important that the right guard starter this year is at least decent. He doesn't have to be the greatest ever, but he needs to be pretty much all-around solid. Like a hamburger from Wendy's, or the first season of Parks and Recreation. Nothing special, but gets the job done.
Garland is probably the sounder player right now. Schweitzer is the guy with the higher ceiling. According to every indication from all the beat reporters, the team is splitting the first reps between the two. D. Orlando Ledbetter has the two literally in a bracket on his training camp depth chart.
They're even, folks. A gridlock. A tie. No one knows who will start at right guard for the Falcons right now. Not even that sentient silver Falcon of truth and justice outside of the new stadium.
Of course, the horrifying Ndamukong Suh is waiting in the first week of the preseason. I'm sure whomever he tries to devour on that first drive will need to impress. If they look good against Suh, they'll have that loving feeling, and it won't ever be gone. If you get that reference, welcome to the "too far gone" club.
What's that you say? Dan Quinn already knows who's winning? Ah, well then. It looks like…uhh…they've still got to impress…us…as to who's…winning. Yeah.
TWO – WHATEVER HAPPENED TO JALEN COLLINS?
Nothing. Nothing happened to Jalen Collins. He is not Robot Jones. We do not need to worry about what happened to Jalen Collins. Jalen Collins is ok. I saw him on a highlight reel of training camp today. He was there.
"But, but, but, but, but, but Coooooorrrryyyyy, he's not getting first team reps and he's not getting second team reps and he's not…"
ZIPPA YA LID
This same dang thing happened last year. Jalen Collins ran with some of the third and fourth strings in training camp, everyone sounded the bust horns, he missed four games, was inactive for one or two after the suspension, and then when Desmond "the best defensive player on the team" Trufant went down to injury, he literally started in his place and did a good job.
Now, Collins, who for all accounts has done his job this offseason and has been fine with no problems, isn't getting the reps we think he should. Look, defending passes from practice squad quarterbacks is not the definition of ideal in the dictionary when it comes to shoring up young, raw players. I get it. You want them going up against good players so that they will get better. And Collins is not. Fair enough.
But Collins will be on the team, he will probably be active on every game day and will probably do decent-enough to earn himself a good contract when his rookie deal is up … somewhere. I don't know if he's a long-term Falcon, because he's probably good enough to be a starting CB2 on a roster elsewhere. Yeah, I said that thing. But, right now, he's a Falcon on a depth chart with a lot of good corners (C.J. Goodwin, Deji Olatoye, Brian Poole, Damontae Kazee, Blidi Wreh-Wilson, honestly Marquand Manuel still if we're being honest with ourselves, he looks like he could still play), and the team may know that the best experience for him is literally within the confines of a regular season game. Yes, right now, Quinn says he's probably a second or third team guy. But he was that last year! He's a solid player!
Don't pound the alarm. Pounding stuff is for Panthers. Keep pounding. What does that mean? What are you pounding? Rise Up gives us a specific verb and direction. We rise, up. Keep pounding? At what? Be more specific. If you're not careful, a confused fan is going to accidentally punch himself in the face to fulfill the slogan he can't understand, and you'll be the liable party, Carolina.
OK, so Jalen Collins. He's going to be fine stop freaking out gracious you people.
THREE – THE DEVONTA FREEMAN CONTRACT AFFAIR
Nonstory. They'll pay him a lot of money because he deserves a lot of money, and he will continue to be a great player for the Falcons for years to come.
It'll be a matter of when. So, could it be today, August 2? What about August 3? Some say August 4, but I think August 14 is the dark horse. You can't count out August 12. Some say even August 17. Look, I don't want to speculate it could be August 19, but for the "It'll be August 22 crowd," I say, August 24.
Stop worrying about it you know they're going to extend him. He's a literal face of the franchise.
Hold on…what about August…15?
Mull on that, Dirty Bird Nation.
FOUR – X PLAYER IS LOOKING GOOD!
Look, I don't know how much water this can hold. We say that about lots of players. They look good in training camp. Some movie previews look good, and the movies end up being good. Some movie previews look good, and the movies end up being hot Saints garbage.
Robert Alford is having a great camp. He's a great football player! Of course he's going to look good in camp! It's tee-totally fine to mention it, but how surprised should we really be?
OK, if an UDFA looks good in camp, we should probably pay attention to NO. NO WE SHOULD NOT. I WILL NOT HAVE MY HEART BROKEN AGAIN. BRANDON WILDS. HIS NAME WAS BRANDON WILDS.
He is now a CLEVELAND BROWN. That's the price we have to pay for Turbo, Alex Mack, Shanahan in 2016, uhm, probably another good player we pick up on the waiver wire before week one. But Wilds? A Cleveland Brown? I'm physically ill.
So, I have no idea what to tell you if X player looks good in camp. Other than to say, X player looks good in camp.
Uhm, while we're at it, Mohamed Sanu Sr. looks good in camp. No, seriously, he's looking good out there. Sanuuuuuuu!
FIVE – CRAZY FOR KAZEE
Ok, rookie looking good in training camp is kind of fun to speculate about because we can go back and look at our draft grades like Pokémon cards and…wait…you don't do that? Oh, never mind, I'm a cool dude who doesn't have Draft Grade Trading Cards. I even got my 2013 Levine Toilolo card signed. Solid B. Good for Toilolo, man.
Ok, so Damontae Kazee is having a good camp so far. He's probably going to get some playing time in 2017, but special teams will be his primary spot.
Ah crud there's nothing else to say right now. Man, training camp kind of stinks for really good writing, doesn't it?
Keep it up, Kazee!
SIX – UHM, UHH, I BET IT'S HOT DOWN IN ATLANTA
Wouldn't doubt it. Would not doubt it.
SEVEN – ARE YOU DOING ACTUAL PUSH-UPS RIGHT NOW?
Bro, you've got to stop doing those. This article is kind of floundering right now. I've run out of things to say! But, I love the ten points format! I want to use it in the future! Everyone does five. Why not ten?
EIGHT – YOU SHOULD SEE DUNKIRK
Ok, that's a great point. Dunkirk. Go see it. Especially in IMAX. Nolan!
NINE – NO, NOT MIKE NOLAN.
Christopher Nolan. Great filmmaker. Inception. Dark Knight. Not the former Falcons defensive coordinator.
TEN – LADIES AND GENTLEMEN, THE RIGHTEOUS BROTHERS
Photo from AJC